Straddle Press
Para ver el contenido exclusivo accede, desde tu móvil, haciendo click en: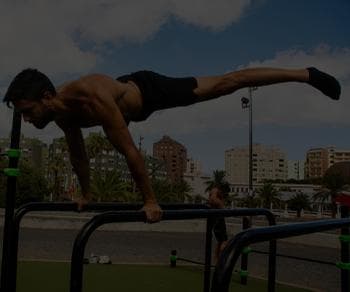 Programa
Straddle Press
advanced
Acerca de este Programa
The straddle press is an advanced exercise that involves moving up from a straddle plank position to a handstand position, without bending your arms or arching your back.
Must know
With this method we will learn to do the straddle press first by flexing the arms and then in the strict form.

The program is designed to be done twice a week, with an extra routine in case you want to do a third session.

Being strength routines, with few repetitions, we recommend taking long breaks, between 2' and 3', in which you fully recover, especially in the first exercises.
Requirements
Before you start this plan, make sure you have some mastery of the straddle plank, at least 5 seconds, if not, you can use the straddle plank program to achieve it.
Necessary material
Parallel bars. We recommend having push ups or mini parallel grips as well, but it is not required.