Handstand by strength
Para ver el contenido exclusivo accede, desde tu móvil, haciendo click en: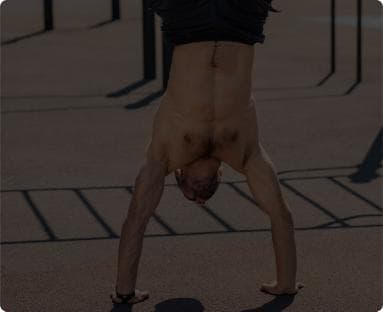 Programa
Handstand by strength
intermediate
Acerca de este Programa
Program to take the climb to a pin by force, without launching yourself with momentum. In this program we will work with the method of routines of the traditional type, unlike the other program in the app in which we use the method of clusters. The main idea is to get your shoulders strong and master the handstand balance, so that you can do it without pushing yourself. This will be very useful for you to do a handstand in parallel or in places other than the ground and to be able to control it much more, without depending so much on your precision in the momentum.
Must know
This program is designed to be done twice a week, with an extra routine in each phase in case you want to do a third session.

Use medium-long rest times of between 1'30" and 3', depending on how difficult the routine is for you.
Requirements
The first phase is adapted for beginners, so it would only be necessary for you to be able to do push-ups with ease. It would also be recommended that you be able to do a handstand against a wall, although you can learn this during the program.
Necessary material
This program can be done at home without equipment, although it would be advisable to have some push up grips to learn both on the ground and in mini parallel bars.